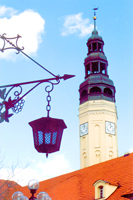 Zielona Góra

Zielona Góra is a city in central west Poland with about 120 000 inhabitants. It is the capital of the Lubuskie Province, an economic, administrative, cultural and educational center for the region. The University of Zielona Góra came into being from the merger of the former Technical University and Pedagogical University. 25 000 students are studying here.

Zielona Góra is located close to the border with Germany. It is only 125 km from Poznań and 150 km from Berlin. Nearly 80% of national east-west transit traffic runs through Świecko, Słubice, Gubin and Olszyna, border towns in the Lubuskie Province. Zielona Góra is developing rapidly with the help of European Union funds. There are two airports near to Zielona Góra, sports airport in Przylep and cargo-passenger airport in Babimost.

Housing construction is fast developing in the city. It is forecasted that the housing problem should be eliminated very soon. The investors are encouraged to run the new companies and create new jobs.

Zielona Góra is a comfortable place to live, work and relax. It is a very green, clean and safe city. People are friendly and hospitable. The major of the region is covered with forests. The most important cultural attractions are the Wine Festival, United Europe Song Festival and Polish Woodstock Festival in Żary. Zielona Góra is known as Wine City or Bachus City.